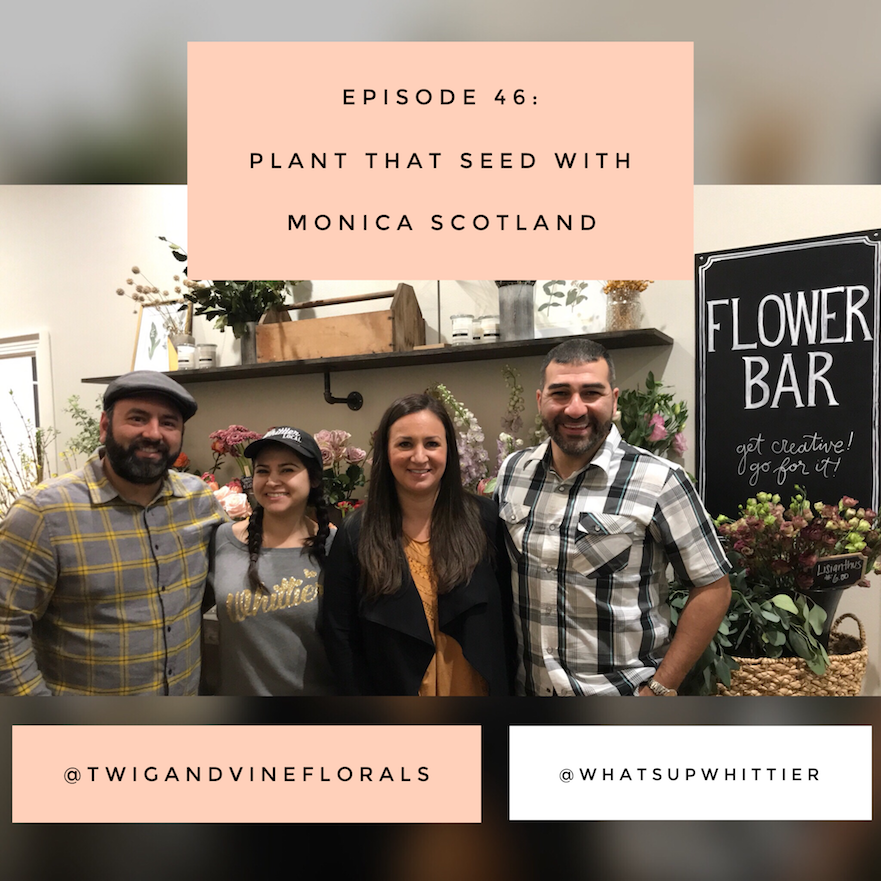 Hey townies! Join Jessie the Architect and Remo the Realtor as they interview Monica Scotland form Twig & Vine Florals to discuss their flower arrangement specials, how they get their flowers, and if Remo has a green thumb.
Social Media
What's Up Whittier
Facebook
Instagram
Twitter
Email: whatsupwhittierpod@gmail.com
Twig & Vine Florals
Website
Instagram
562-677-5519
Remo the Realtor
Facebook
Instagram
Website  
Jessie the Architect
Facebook
Instagram
Website 
Producer Christine
Facebook
Instagram
Whittier Farmer's Market
What: Farmer's Market
When: Every Friday 8 am- 1 pm
Where: Corner of Philadelphia & Bright   
City of Whittier 2018 Election Candidate Forum
What: Open Q&A Forum for City Council
When: January 27, at 12:00 p.m.-1:30 p.m.
Where: Parnell Park Senior Center, 15290 Lambert Road 90604
The next general municipal election will be held on Tuesday, April 10, 2018, for the purpose of electing Council Members for Districts 2 and 4 and a city-wide elected Mayor. For voter registration visit the City of Whittier at www.cityofwhittier.org.
Yoga & Breakfast at The Bee Hive
What: Yoga & Breakfast at The Bee Hive
When:Sunday, Februayr 25 at 8:00 a.m.
Where: The Bee Hive, 13308 E. Whittier Blvd, Whittier, CA 90602
Why: We have our own Yoga Instructor at The Bee Hive-Whittier! 
We are providing a YOGA class every Sunday from 8am-9am for donations only to our instructor, Jazmin. Bring your own mat and hand towel. Afterwards you may want a refreshing Organic Juice or Protein Smoothie to take with you!
https://www.facebook.com/events/1027716360699835/
Margaritas & Book Launch Party
What: Eva Macias Book Launch
When: Thursday february 22, from 6-9pm
Where: Fiesta Hall, 12703 Philadelphia St, Whittier, CA 90601
Why: Join Eva Macias as she releases her first book Money: A Latina's Guide to Money. Be sure to buy the book ON FEBRUARY 22 before noon for your free admission & margarita! We want to see Eva as an Amazon bestseller! Let's support the community!
https://www.facebook.com/events/141546206521025/
St Patricks Day Slosh
What: Hungry in Whittier's St Paddys Day Party
When: Saturday, March 17, 2018
Where: The Knotted Apron, 6712 Greenleaf Ave, Whittier, CA 90601
Why: The ticket price is $50 for unlimited food, drink & beer pong! https://hungryinwhittier.com/products/st-pattys-day-slosh