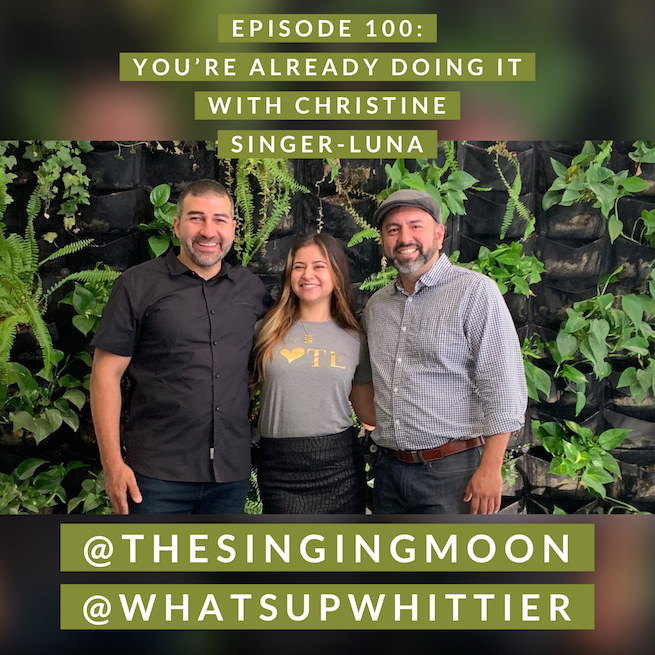 EPISODE 100: YOU'RE ALREADY DOING IT with Christine Singer-Luna
Join Remo the Realtor & Jessie the Architect as they interview Producer Christine about her roots tied into Whittier, how she got into radio/podcasting, and some exciting news that will shake up the town!
Christine Singer-Luna
14408 E. Whittier Blvd.
Suite A7
Whittier, CA 90605
WEBSITE
TWITTER
FACEBOOK
INSTAGRAM
Social Media
What's Up Whittier
Email: communitycorkboard@whatsupwhittier.com
Remo the Realtor
Jessie the Architect
Producer Christine
Community Corkboard Announcements
Uptown Whittier Farmer's Market
Who: The Whittier Uptown Association
What: Weekly Farmer's Market
When: Fridays, 8am-1pm
Where: Corner of Philadelphia St & Bright Ave
Become a vendor: farmersmarket@whittieruptown.org  
2019 Summer Concerts in the Park
Who: The City of Whittier Parks & Recreation Department
What:  2019 Summer Concerts in the Park
When: Mondays at 7 p.m.
Where: Central Park, 6532 Friends Avenue
Info:
July 8- Amanda Castro Band, Jazz
July 15- The Smith Band, Country
July 22- Upstream, Reggae
July 29- Las Colibri, Mariachi
August 5- The Band Fresh, Top 40s
When: Thursdays at 7 p.m.
Where: Parnell Park, 15390 Lambert Rd.
Info:
July 11- Selena Tribute Band
July 18- Neon Nation, 80's
July 25- Blue Breeze Band, Motown
August 1- Hard Days Night, Beatles
August 8- Electric Vinyl, Classic Rock
Parks Make Life Better! Fore more information call 562-567-9450
Bring your lawn chair & blanket! Pets, barbecues, alcoholic beverages, and smoking are prohibited. 
4th of July Spectacular
Who: The City of Whittier Parks & Rec Dept
What: 4th of July fireworks show!
When: July 4 from 5-9 pm
Where: York Field
More Info:  FACEBOOK EVENT
Movies in the Park
Who: City of Whittier Parks & Rec Dept
What: Movie in the Park, Mary Poppins Returns
When: July 6 at dusk
Where: Michigan Park, 8228 Michigan Ave.
More Info: FACEBOOK EVENT
Viva La Frida Fest
Who: Casita del Pueblo
What: Celebration of Frida Kahlo
When: Sunday, July 7, 2019 from 12pm-6pm
Where: Corner of Philadelphia 7 Bright Ave, Uptown Whittier, CA 
More Info: FACEBOOK EVENT
Uptown Whittier Art Stroll
Who: Friends of Uptown Whittier
What: Art Stroll
When: Wednesday, July 10 from 5-9 p.m.
Where: Uptown Whittier! Follow the music… 
WHITTIER PRIDE FEST
Saturday, September 28 from 11am-6pm
Central Park
Want to become involved in the Whittier Pride planning committee?
July 3 at 7:30 pm at the YMCA of Greater Whittier, 12510 Hadley St
Email: prideinfo@whittieryouthbuild.org
Want to be a vendor for the FIRST Whittier Pride fest?
Email: pridevendors@whittieryouthbuild.org