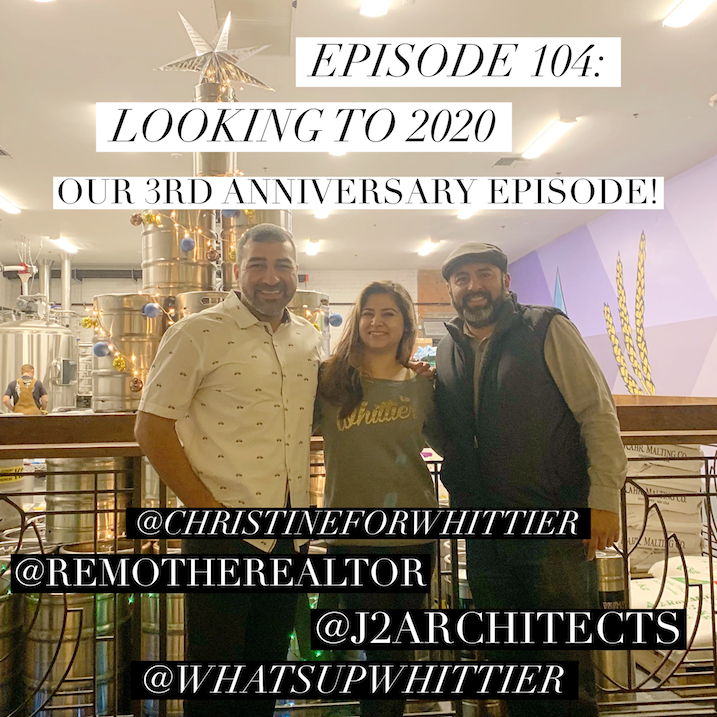 EPISODE 104: LOOKING TO 2020- Our 3rd Anniversary Episode!
Join Remo the Realtor, Jessie the Architect, and Producer Christine as they talk about 2019 and move forward to 2020!
Social Media
What's Up Whittier
Email: whatsupwhittierpod@gmail.com
Remo the Realtor
Facebook
Instagram
Website
Jessie the Architect
Facebook
Instagram
Website
Producer Christine
Facebook
Instagram
Website
Happy Housing Hour
Who: Sustainable City + California YIMBY
What: Happy hour to discuss housing!
When: Friday, January 10 form 6pm-9pm
Where: Guildhall, 6741 Bright Ave 90601
Why: Learn about housing in CA
Homelessness Townhall + Q&A
Who: Singer-Luna for Mayor 2020
What: Public forum addressing homelessness and Whittier!
When: Sunday, January 12 from 3pm-5pm
Where: Roadhouse Grill, 15156 Whittier Blvd, Whittier, CA 90603
Why: Learn about Christine's plan for homelessness in Whittier!
Hello January Bingo
Who: Whittwood Branch Library
What: Family fun and FREE bingo!
When: Monday, January 13 from 6:30pm-7:30pm
Where: Whittwood Branch Library, 10537 Santa Gertrudes Ave, Whittier, CA 90603
Whittier Regional Symphony presents...
Who: Whittier Regional Symphony
What: All American Salute concert
When: Sunday, February 9, 2020 at 3p.m.
Where: Whittwood Branch Library, 10537 Santa Gertrudes Ave, Whittier, CA 90603Whittier High School, Vic Lopez Auditorium, 12417 E. Philadelphia Street