Episodes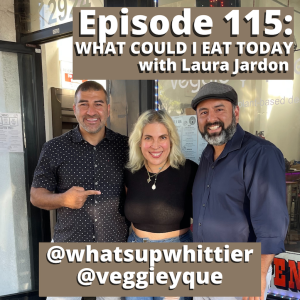 Monday Oct 04, 2021
Monday Oct 04, 2021
Join Remo the Realtor & Jessie the Architect as they interview vegan chingona Laura Jardon of Veggie Y Qué. She shares about her experience recording recipes on Instagram, starting as a pop up, and our guys share their favorite food memories. 
Chef Laura Jardon
Veggie Y Que
12924 Bailey Street
Uptown Whittier, CA 90601
Comstock x Greenleaf
What's Up Whittier
Email: whatsupwhittierpod@gmail.com 
Remo the Realtor
Jessie the Architect
Producer Christine
Uptown Whittier Farmer's Market
Who: The Whittier Uptown Association
What: Weekly Farmer's Market
When: Fridays, 8am-1pm
Where: Corner of Philadelphia St & Bright Ave
Become a vendor: farmersmarket@whittieruptown.org
Chalktastic
Who: The City of Whittier
What: 15th Annual Chalktastic
When: October 16 from 9am-1:30pm
Where: City Hall, 13230 Penn St, Whittier, CA 90602
Sign up online at whittierrec.org 
Registration is free and comes with a 16 color chak kit with a kneeling pad
Whittier Ghosts & Legends Walking Tour
Who: & Modern Shaman Kitchen
What: A Haunted tour of uptown!
When: October 20 from 6:30pm-8:30pm
Where: Meet at Modern Shaman, 6744 Greenleaf Ave
SIgn up & buy your tickets here for $15
Whittier Spooktacular 5K
Who: Whittier Community Foundation
What: A fun healthy way to kick off the Halloween spirit!
When: saturday october 30; kids 2k dash is $25 and starts at 7:30, the actual 5k is $25 and starts at 8
Where: Whittier Community Center
Sign up online, link HERE 
Pancake Breakfast after race (Free for all registered runners, $3.00 for non-registered)
DJ's along the course
Computerized finish line results provided by Alliance Race Timing
Group discount for teams of 10+, use the contact link for more info
Refreshments and Goodie Bags for all participants
Costume contest - Costumes must be family appropriate (Contestants must be a registered participant and participate in the race)
Whittier Museum Events
6755 Newlin Ave
Whittier, CA 90602
What: Haunted Maze!!
When: 10/29-10/31from 6pm-11pm
Where: Whittier Museum
Why: Happy Halloween!!
$5 donation per person suggested
What: Trick or Treat at Museum
When: 10/30 from 1pm-5pm
FREE
What: Hearse Car Show
When: 10/30 from 6pm-10pm
FREE