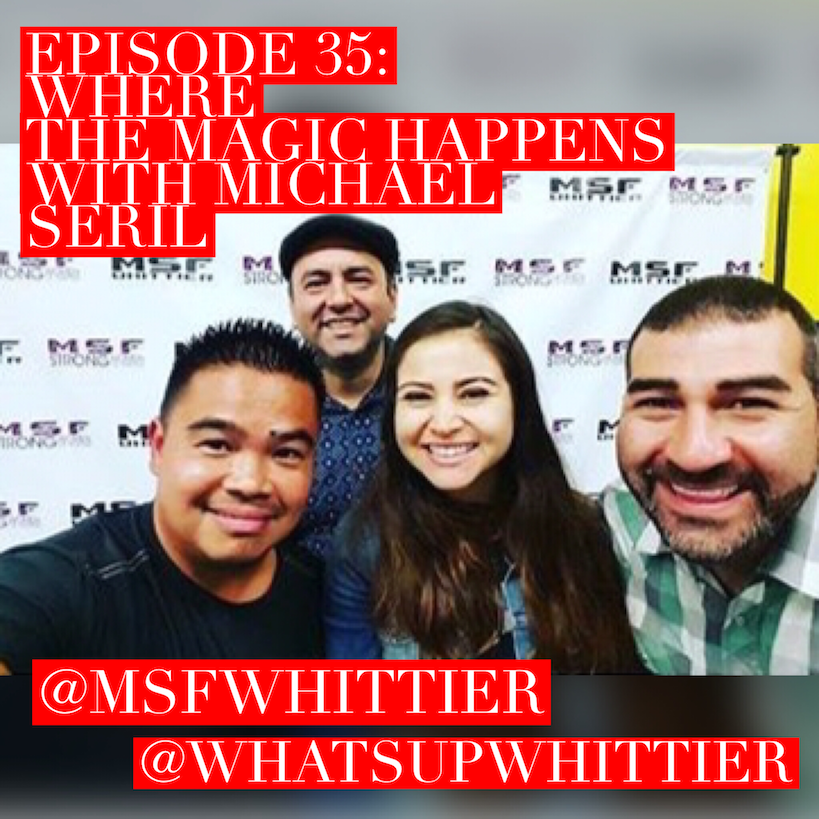 Hey townies! Listen in as Remo the Realtor & Jessie the Architect interview Michael Seril of MS Fitness! Michael is truly a powerhouse full of inspirational motivation, an unusually high amount of energy, and a passionate heart which leads him to Pay It Forward whenever he can! Find out more!
Social Media:
What's Up Whittier
Facebook
Instagram
Twitter
Email: whatsupwhittierpod@gmail.com
Michael Seril Fitness
14628 Whittier Blvd.
Whittier, CA 90605
(714) 306-9002
Remo the Realtor
Facebook
Instagram
Website  
Jessie the Architect
Facebook
Instagram
Website 
Producer Christine
Facebook
Instagram
Website 
CHECK OUT WWW.WHATSUPWHITTIER.COM FOR MORE INFORMATION 
Community Corkboard Announcements
Whittier Farmer's Market
What: Farmer's Market
When: Every Friday 8 am- 1 pm
Where: Corner of Philadelphia & Bright 
Under the Orange Tree
What: Read with Grandma Jean
When: Wed, Oct 18, 3-4pm
Where: Whittwood Branch Library, 10537 Santa Gertrudes Ave, Whittier, CA 90603
http://www.cityofwhittier.org/depts/library/calendar.asp 
2017 Whittier Spooktacular 5k race/walk! 
What: Halloween 5k & Kids Dash
When: Saturday October 28 at 7:30AM
Where: Whittier Community Center, 7630 Washington Ave, 90601
http://www.active.com/whittier-ca/running/distance-running-races/whittier-spooktacular-5k-race-walk-2017
Halloween Capers: It's Just a Jump to thee Left...

What: Halloween Capers!
When: Saturday, October 28 3-??
Where: Grassy Location on Greenleaf Ave! Across from La Monarca & in front of the parking structure.
http://whittieruptown.org/capers/