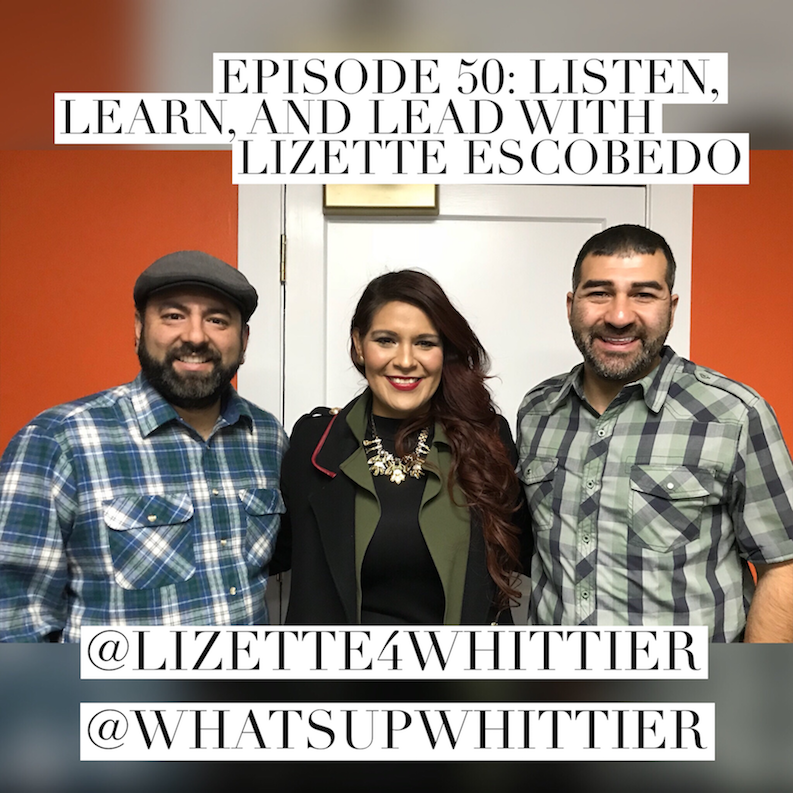 Hey townies! Join Jessie the Architect and Remo the Realtor for this special series as we interview candidates running to be on the Whittier city council. This week they interview Lizette Escobedo, candidate for Mayor of the Whittier City Council!
Social Media
What's Up Whittier
Facebook
Instagram
Twitter
Email: whatsupwhittierpod@gmail.com
Lizette Escobedo
Facebook
Instagram
Website
Remo the Realtor
Facebook
Instagram
Website  
Jessie the Architect
Facebook
Instagram
Website 
Producer Christine
Facebook
Instagram
Special Thank You to The Collab, Inc.
What: The Collab, Inc. Grand Opening
When: Friday, March 16 form 9am-5pm
Where: 6709 Greenleaf Ave
Whittier Farmer's Market
What: Farmer's Market
When: Every Friday 8 am- 1 pm
Where: Corner of Philadelphia & Bright   
City of Whittier 2018 Election Candidate Forum
What: Open Q&A Forum for City Council
When: January 27, at 12:00 p.m.-1:30 p.m.
Where: Parnell Park Senior Center, 15290 Lambert Road 90604
The next general municipal election will be held on Tuesday, April 10, 2018, for the purpose of electing Council Members for Districts 2 and 4 and a city-wide elected Mayor. For voter registration visit the City of Whittier at www.cityofwhittier.org.
Uptown Art Stroll
When: Wednesday, March 17 from 5-9pm
Where: Uptown Whittier
Why: Come on down fro an evening art stroll through Uptown Whittier. Supoort local shops & artists!
Twig & Vine Florals Pop Up
When: Saturday, March 17 from 12pm-3pm
Where: The Collab, Inc. 6709 Greenleaf Ave
Why: Join Twig & Vine Florals  as they have their very own pop up at The Collab, Inc.
Community Meeting- Homeless Plan
What: A Survey to develop a homeless plan, there will be 3 meetings.
First Meeting: Saturday, March 17, 2018, from 10 am-12pm, First Christian Church, 6355 Greenleaf Ave.
Second Meeting: Tuesday, March 20 from 10am-12pm, Whittier Community Center, 7630 Washington Ave.
Third Meeting, Thursday, March 22, from 6:30pm-8:30pm, Whittier Community Center, 7630 Washington Ave
Why: If you really care about this town and the poeple in it, regardless of where they live, please come out and bring friends!
52nd Annual Whittier Mayor Prayer's Breakfast
What: Whittier Mayor's Prayer Breakfast
When: Friday, March 30, from 6:30am-8:30am
Where: Doubletree Hilton, 7320 Greenleaf Ave
23rd Annual Art & Antique Street Faire
What: Art & Antique Street Faire
When: Saturday, April 7 from 9am-3pm
Where: Uptown Whittier
Why: Get an early start on your Mother's Day gift!
Whittier Museum Tea & Fashion Show
What: "Fashion to a Tea"
When: Saturday, April 14, from 11:30am-2:00pm
Where: 6755 Newlin Ave, Whittier, CA
Why: To benefit and support the Whittier Museum. https://whittiermuseum.org/