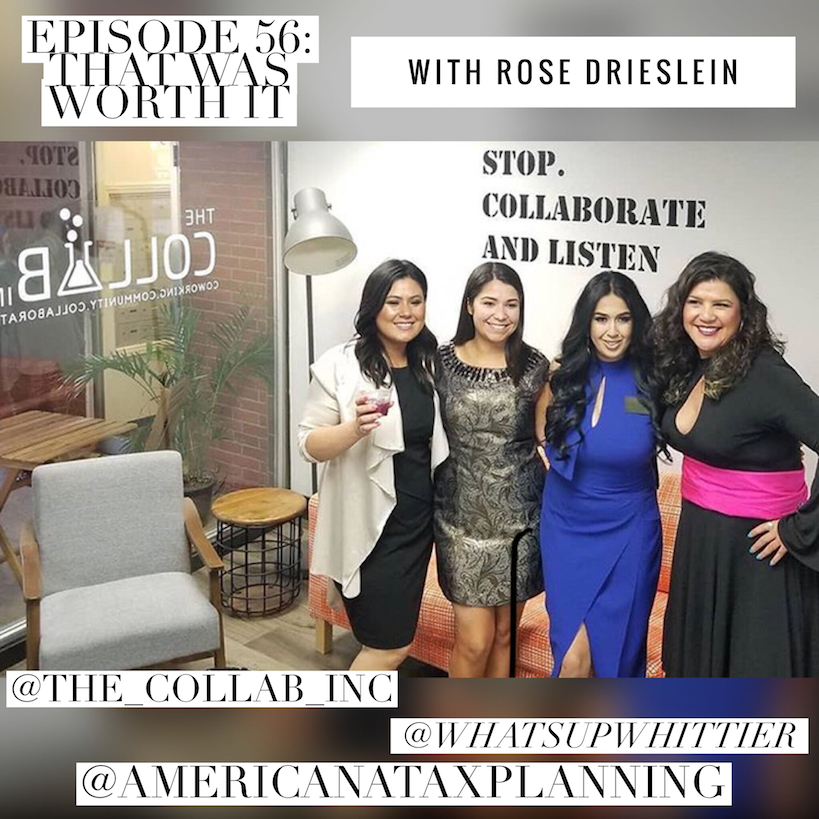 Hey townies! Join Jessie the Architect and Remo the Realtor as they interview Rose Drieslein of Americana Tax Planning and The Collab, Inc. on her experience opening Whittier's first co working office, the benefits of tax planning, and how the Whittier Uptown Association Mixer went...
Social Media
What's Up Whittier
Facebook
Instagram
Twitter
Email: whatsupwhittierpod@gmail.com
The Collab, Inc.
6709 Greenleaf Ave
Whittier, CA90601
Website
Instagram
Americana Tax Planning
Instagram
Website
Facebook  
Remo the Realtor
Facebook
Instagram
Website  
Jessie the Architect
Facebook
Instagram
Website 
Producer Christine
Facebook
Instagram
Special Thank You to The Collab, Inc.
What: The Collab, Inc. Grand Opening
When: Friday, March 16 form 9am-5pm
Where: 6709 Greenleaf Ave
Whittier Farmer's Market
What: Farmer's Market
When: Every Friday 8 am- 1 pm
Where: Corner of Philadelphia & Bright
Health Fair Kiddie K Fun Run
What: FREE fun run 
When: Saturday, May 19. Registration at 9am; Race at 10 am
Where: City Hall
Memorial Day 
What: 2018 Memorial Day Ceremony
When: Monday, May 28 at 9am
Where: Whittier City Hall Peace Memorial
Movies in the Park
What: Bring the family to enjoy a movie in the park!
When: Saturday, june 2 movie is Wonder at dusk
Where: Parnell Park, 15390 Lambert Rd. 
Whittier Goes to the Hollywood Bowl
What: Join the city of WHittier on a bus to the Hollywood Bowl!
When: Saturday, July 7 AT 5:30
Where: City of Whittier  
Whittier Concerts in the Park
What: 2018 Concerts in the Park Series 
When: Monday, June 25 at 7pm; Thursday, June 28 at 7pm
Where: Central Park on Mondays, Parnell Park on Thursdays  
Shop Local 
What: Join Whittier's Chamber of Commerce at their Annual Shop Local Event!
When: Thursday, June 29 at 4pm
Where: Parnell Park, 15390 Lambert Rd 
4th of July Firework Spectacular
What: Join Whittier's for their firework spectacular!
When: July 4
Where: York Field