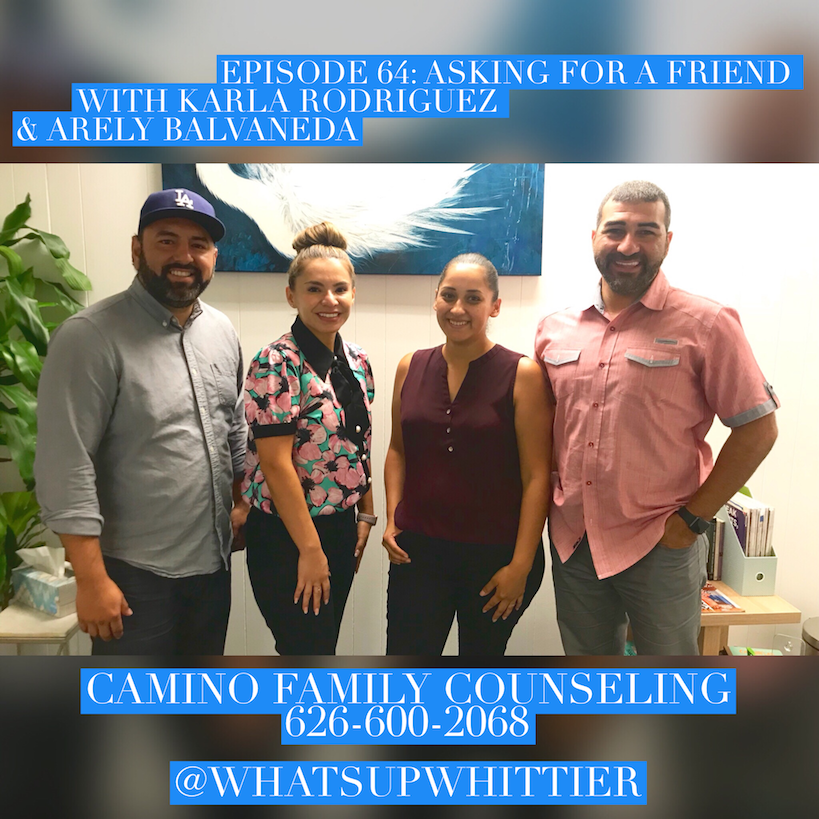 Join Jessie the Architect & Remo the Realtor this week as they interview therapists Karla Rodriguez & Arely Balvaneda about maternal health, family living, and we may get to the root of Remo's need for hugs. 
Camino Family Counseling
14408 E. Whittier Blvd. 
Ste A7
Whittier, CA 90605
Phone: 626-600-2068
Accepts Blue Shied Insurance & Cash 
Social Media
What's Up Whittier
Facebook
Instagram
Twitter
Email: communitycorkboard@whatsupwhittier.com 
Remo the Realtor
Facebook
Instagram
Website  
Jessie the Architect
Facebook
Instagram
Website 
Producer Christine
Facebook
Instagram
Website
Community Corkboard Announcements
Uptown Whittier Farmer's Market
Who: The Whittier Uptown Association
What: Weekly Farmer's Market
When: Fridays, 8am-1pm
Where: Corner of Philadelphia St & Bright Ave
Movie's in the Park
Who: The City of Whittier
What: Bring your family to enjoy a movie in the park!
When: Saturday, September 1 at dusk! Movie is Star Wars: The Last Jedi
Where: Parnell Park, 15390 Lambert Rd.
Boots, Beer, & BBQ
Who: The Whittier Community Foundation
What: Fundraiser for the Firefighter Tribute statue
When: Saturday, September 29, 2018 at 6pm-9pm
Where: The Quad Parking Structure, 13502 Whittier Blvd, Whittier, CA 90605
Booktoberfest!
Who: Whittier Public Library Foundation
What: 4th Annual Booktoberfest!
When: Thursday, October 11 at 7:00 pm
Where: Whittier Public Library, 7344 Washington Ave.
More Info: whittierplf.org $50, non-member; $45, member
Whittier Spooktacular 5k
Who: Whittier Community Foundation
WHat: A ghoulish 5k
When: October 27 at 6 am
Where: Whittier Community Center
More Info: Register Here
Uptown Whittier Holiday Sonata
Who: Whittier Uptown Association
What: Holiday celebration in Uptown
When: Friday November 30 & Friday December 1, 2018 at 6:00 pm
Where: Uptown Whittier
More Info: Facebook Event
Uptown Whittier Christmas Parade
Who: Whittier Uptown Association
What: Christmas Parade
When: Saturday, December 8 at 10 am
Where: Uptown Whittier
More Info: Facebook Event
SIGN UP FOR THE SUSTAINABLE CITY NEWSLETTER:
Sustainable City Facebook Page