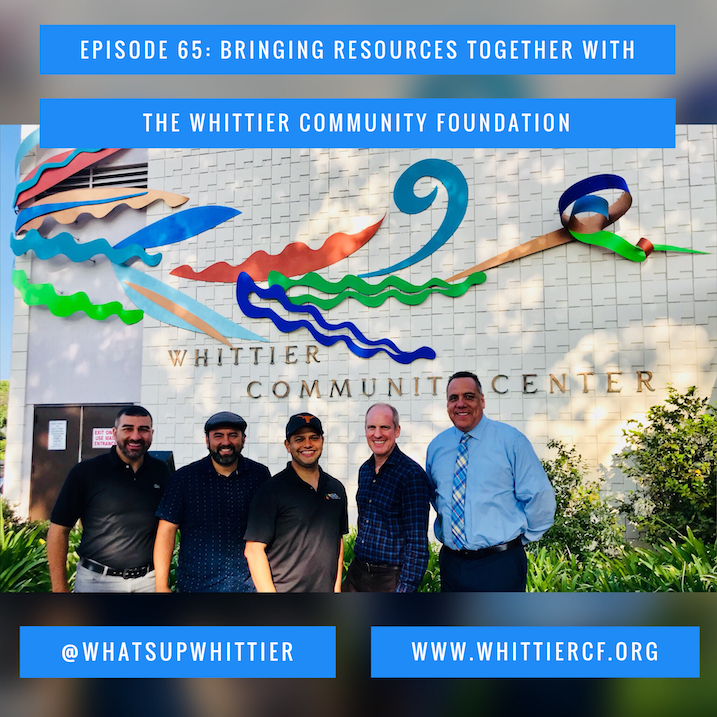 Join Jessie the Architest & Remo the Realtor as they interview Greg Alaniz, Director of Whittier Parks & Recreation & board member; Chris Hardeman, second Vice president, and Rudy Hernandez; first Vice President of the whittier Community Foundation. In this episode you will learn about how the foundation supports our community and which upcoming events you can participate in!
Whittier Community Foundation:
Website
Community corkboard announcements
Uptown Whittier Farmer's Market
Who: The Whittier Uptown Association
What: Weekly Farmer's Market
When: Fridays, 8am-1pm
Where: Corner of Philadelphia St & Bright Ave
Prelude to a Kiss Auditions
Who: The Whittier Community Theatre
What: Auditions for their next play, Prelude to a Kiss
When: September 17 & 18 at 7:30p.m.
Where: The Center Theatre, 7630 Washington Ave, Whittier, CA 90602
More Info:
Bring a headshot, resume, and completed audition form, downloadable at www.whittiercommunitytheatre.org. Be prepared to cold-read sides (provided) from the script.
Job, Internship, & Resource Fair
Who: Rio Hondo College
What: Job, Internship, and Resource Fair
When: Wednesday, September 19th at 10am
Where: Rio Hondo College, Mid Quad, 3600 Workman Mill Road, Whittier, CA 90601
More Info:
Network with over 30 employers. Bring your resume and dress to impress. Rio Hondo College Job Fair is free and open to the public. Free lunch with student ID.
Boots, Beer, & BBQ
Who: The Whittier Community Foundation
What: Fundraiser for the Firefighter Tribute statue
When: Saturday, September 29, 2018 at 6pm-9pm
Where: The Quad Parking Structure, 13502 Whittier Blvd, Whittier, CA 90605
Booktoberfest!
Who: Whittier Public Library Foundation
What: 4th Annual Booktoberfest!
When: Thursday, October 11 at 7:00 pm
Where: Whittier Public Library, 7344 Washington Ave.
More Info: whittierplf.org $50, non-member; $45, member
Whittier Spooktacular 5k
Who: Whittier Community Foundation
WHat: A ghoulish 5k
When: October 27 at 6 am
Where: Whittier Community Center
More Info: Register Here
Uptown Whittier Holiday Sonata
Who: Whittier Uptown Association
What: Holiday celebration in Uptown
When: Friday November 30 & Friday December 1, 2018 at 6:00 pm
Where: Uptown Whittier
More Info: Facebook Event
Uptown Whittier Christmas Parade
Who: Whittier Uptown Association
What: Christmas Parade
When: Saturday, December 8 at 10 am
Where: Uptown Whittier
More Info: Facebook Event
SIGN UP FOR THE SUSTAINABLE CITY NEWSLETTER:
Sustainable City Facebook Page