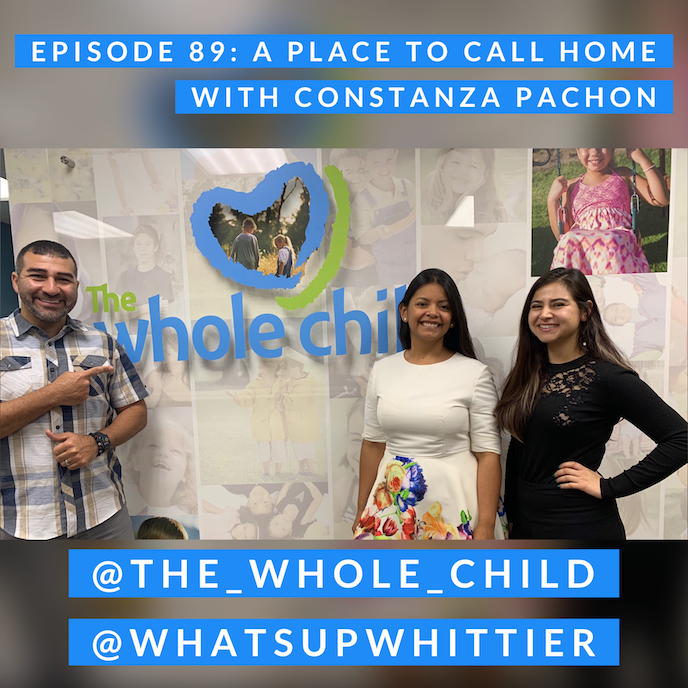 Join Remo the Realtor & Jessie the Architect as they interview Constanza Pachon, CEO of The Whole Child, about Constanza's upbringing in Colombia, TWC's new mission, and the work they are doing to combat homelessness for children and their families .
10155 Colima Rd.
Whittier, CA 90603
(562) 692-0383
(562) 692-0380 fax
twcinfo@thewholechild.org
The Whole Child's Annual Fundraiser
April 12, 2019
COMMUNITY CORKBOARD ANNOUNCEMENTS
Uptown Whittier Farmer's Market
Who: The Whittier Uptown Association
What: Weekly Farmer's Market
When: Fridays, 8am-1pm
Where: Corner of Philadelphia St & Bright Ave
Become a vendor: farmersmarket@whittieruptown.org  
Whittier Earth Day Celebration

Who: United Nations Association- Whittier
What: A free event appreciating Mother Earth
When: April 27 10:00 a.m.-2:00 p.m.
Where: Grassy Area, 6718 Greenleaf Ave, Uptown
More Info: This is a FREE community event featuring speakers, yoga, kid's crafts, and more! 
WEBSITE
Fashion to a Tea: Runway of Curiosity
Who: Whittier Historical Society & Museum
What: Annual Fashion Show Fundraiser
When: Saturday, April 27, 2019 at 11:30 a.m.
Where: Whittier Museum, 6755 Newlin Ave, Whittier, CA 90601
More Info: 
ORDER TICKETS ONLINE
Taps & Tapas
Who: The Whittier Uptown Association
What: 35+ Brewery & Restaurant Tastings
When: Sunday, April 28, 2019 from 1 p.m.-6p.m.
Where: Fiesta Hall, 12703 Philadelphia St., Uptown
More Info: 
WEBSITE
 The Whittier Uptown Association present Taps and Tapas. The ultimate day of craft beer and food tasting that will feature several craft breweries while showcasing uptown's growing & vibrant restaurant scene. 
Pancakes in Paris 🥞🗼
.
Monday, April 1
+ Family Night: Craft & Film
🎈The Red Balloon
🎟 Central • 6:30pm • Free
.
Thursday, April 4
+ Historian Dinna Pitt
🌴 LA's Forgotten French Connection
🎟 Central • 6:30pm • Free
.
Saturday, April 6
+ Norton Simon Museum: Guided Tour of Matisse/Odalisque Exhibit
🎨 Tour & Lunch
🎟 S O L D  O U T
.
Monday, April 8
+ Film
🕙 An American in Paris
🎟 Whittwood Branch • 6:30pm • Free