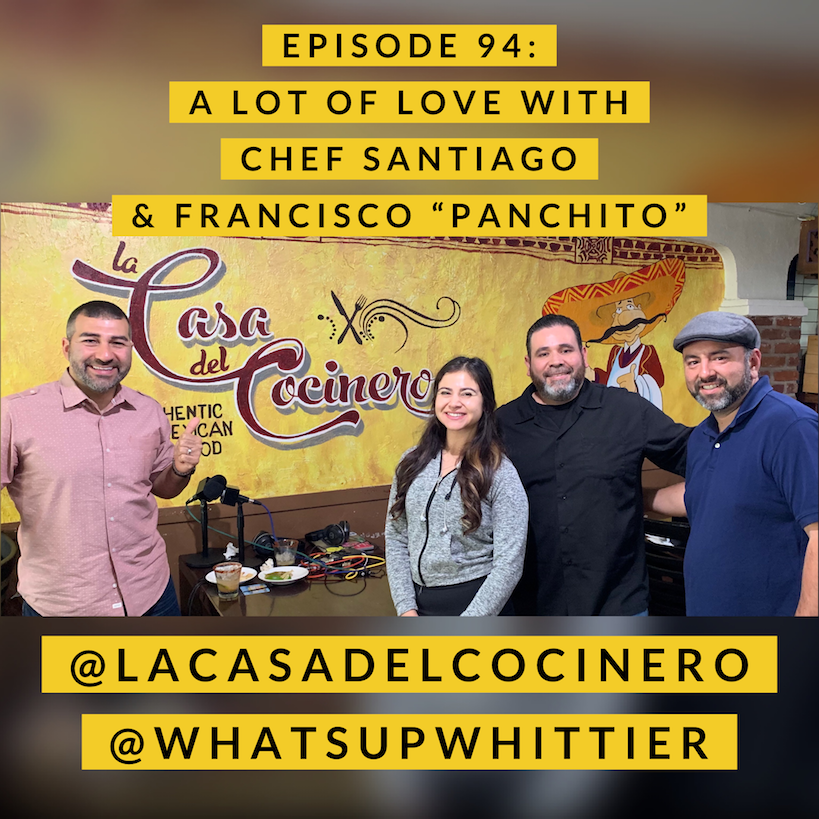 What's Up, Whittier?
Episode 94:A LOT OF LOVE with Santiago Elizondo & Francisco "Panchito"
Join Remo the Realtor & Jessie the Architect as they interview Chef Santi & Francisco "Panchito" of La Casa Del Cocinero, about the home style cooking, famous lava rock molcajete, and where the party is at on a Friday night!
La Casa del Cocinero
14323 Whittier Blvd.
Whittier, CA 90605
Social Media
What's Up Whittier
Facebook
Instagram
Twitter
Email: communitycorkboard@whatsupwhittier.com 
Remo the Realtor
Facebook
Instagram
Website  
Jessie the Architect
Facebook
Instagram
Website 
Producer Christine
Facebook
Instagram
Website
Community Corkboard Announcements
Uptown Whittier Farmer's Market
Who: The Whittier Uptown Association
What: Weekly Farmer's Market
When: Fridays, 8am-1pm
Where: Corner of Philadelphia St & Bright Ave
Become a vendor: farmersmarket@whittieruptown.org  
2019 Summer Concerts in the Park
Who: The City of Whittier Parks & Recreation Department
What:  2019 Summer Concerts in the Park
When: Mondays at 7 p.m.
Where: Central Park, 6532 Friends Avenue
Info:
June 24- Disney Tribute Band
July 8- Amanda Castro Band, Jazz
July 15- The Smith Band, Country
July 22- Upstream, Reggae
July 29- Las Colibri, Mariachi
August 5- The Band Fresh, Top 40s
When: Thursdays at 7 p.m.
Where: Parnell Park, 15390 Lambert Rd.
Info:
June 27- Stevie Nicks Illusion, Fleetwood Mac Cover
July 11- Selena Tribute Band
July 18- Neon Nation, 80's
July 25- Blue Breeze Band, Motown
August 1- Hard Days Night, Beatles
August 8- Electric Vinyl, Classic Rock
Parks Make Life Better! Fore more information call 562-567-9450
Bring your lawn chair & blanket! Pets, barbecues, alcoholic beverages, and smoking are prohibited
2019 State of the City
Who: Whittier Chamber of Commerce, Doubletree Hilton Whittier, & The City of Whittier 
What: 2019 State of the City
When: Thursday, May 23 fro 8am-10am
Where: Doubletree Hilton Whittier, 7320 Greenleaf Ave
Info: $20 pp, Link
100th LIVE Episode Under the Stars
Who: What's Up, Whittier?
What: our 100th Episode
When: Wednesday May 29 at 6:30 p.m.
Where: The Artisan Building, 6757 Bright Ave, 90601
Info: Free Parking in structure
Annual Uptown Whittier Car Show
Who: Whittier Uptown Association
What: 2019 Uptown Whittier Car Show
When: Saturday, June 1
Where: Along Greenleaf Ave & Philadelphia St
Info: Free admission to the public. Includes live music, vendors, raffle prizes, event t-shirts and more. Open to all makes and models. Trophies will be awarded in 20 different categories.
Cost: $40.00 and $45.00 after May 14th.  Price includes an event t-shirt and dash plaque (magnet).
For additional information call our office at (562) 696-2662
Ribbon Cutting at Farmers Insurance Office, Claudia Sambrano
Who: Claudia Sambrano
What: Office Ribbon Cutting
When: Thursday, June 13 at 4:00 p.m.
Where: Claudia's Office, 14831 Whittier Blvd. Ste 101, Whittier, CA 90605
Info: Join Claudia Sambrano & her office as they officially have a ribbon cutting to commemorate the opening of her office. Enjoy a mimosa bar, snacks, and music all while networking with other Whittier locals & business owners. This ribbon cutting is free and open to the public.
Leadership & Communication
Who: Future Leaders of Whittier
What: 2nd Official Meeting
When: Thursday, June 13 at 6:00 p.m.
Where: Whittier Business Center, 12501 Philadelphia St, Whittier, CA 90601
Info:www.whittierleaders.com