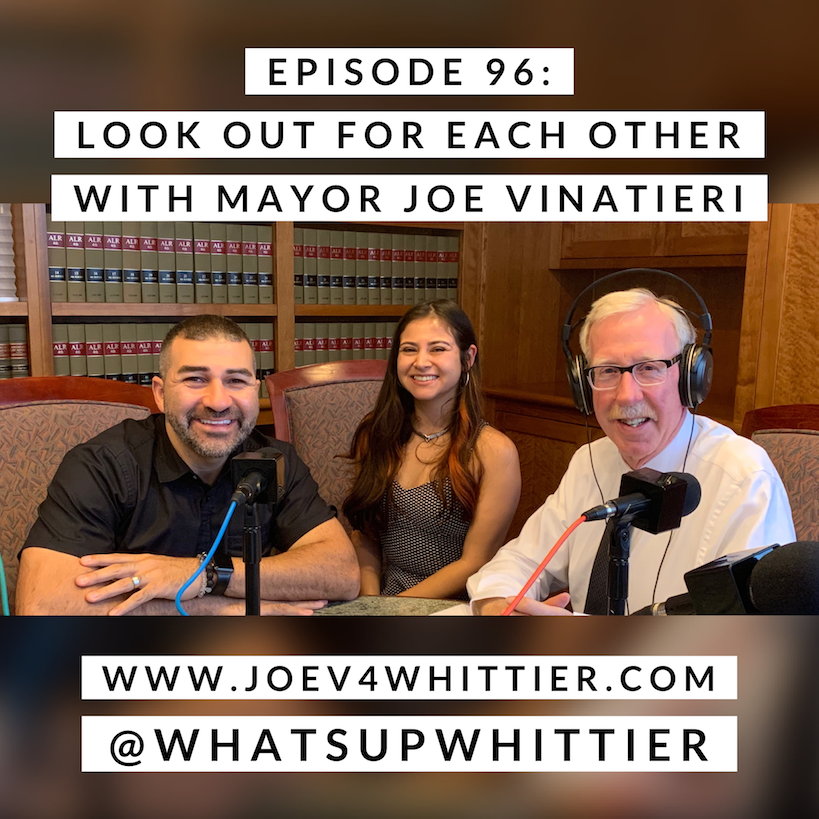 EPISODE 96: LOOK OUT FOR EACH OTHER with Mayor Joe Vinatieri
Join Remo the Realtor and Producer Christine as they interview Mayor Joe Vinatieri and ask "What's Up, Whittier?" Mayor Joe will touch on the new Groves development taking place at the old Fred C. Nelles School site, the current state of the Gold line Metro expansion, and his idea for local transportation! We hope you enjoy this as much as we did!
Mayor Joe Vinatieri
Social Media
What's Up Whittier
Facebook
Instagram
Twitter
Email: communitycorkboard@whatsupwhittier.com 
Remo the Realtor
Facebook
Instagram
Website  
Jessie the Architect
Facebook
Instagram
Website 
Producer Christine
Facebook
Instagram
Website
Community Corkboard Announcements
Uptown Whittier Farmer's Market
Who: The Whittier Uptown Association
What: Weekly Farmer's Market
When: Fridays, 8am-1pm
Where: Corner of Philadelphia St & Bright Ave
Become a vendor: farmersmarket@whittieruptown.org  
2019 Summer Concerts in the Park
Who: The City of Whittier Parks & Recreation Department 
What:  2019 Summer Concerts in the Park
When: Mondays at 7 p.m.
Where: Central Park, 6532 Friends Avenue
Info: 
June 24- Disney Tribute Band
July 8- Amanda Castro Band, Jazz
July 15- The Smith Band, Country
July 22- Upstream, Reggae
July 29- Las Colibri, Mariachi
August 5- The Band Fresh, Top 40s
When: Thursdays at 7 p.m.
Where: Parnell Park, 15390 Lambert Rd.
Info: 
June 27- Stevie Nicks Illusion, Fleetwood Mac Cover
July 11- Selena Tribute Band
July 18- Neon Nation, 80's
July 25- Blue Breeze Band, Motown
August 1- Hard Days Night, Beatles 
August 8- Electric Vinyl, Classic Rock
Parks Make Life Better! Fore more information call 562-567-9450
Bring your lawn chair & blanket! Pets, barbecues, alcoholic beverages, and smoking are prohibited
Annual Uptown Whittier Car Show
Who: Whittier Uptown Association
What: 2019 Uptown Whittier Car Show
When: Saturday, June 1 
Where: Along Greenleaf Ave & Philadelphia St
Info: Free admission to the public. Includes live music, vendors, raffle prizes, event t-shirts and more. Open to all makes and models. Trophies will be awarded in 20 different categories.
Cost: $40.00 and $45.00 after May 14th.  Price includes an event t-shirt and dash plaque (magnet).
For additional information call our office at (562) 696-2662
Ribbon Cutting at Farmers Insurance Office, Claudia Sambrano
Who: Claudia Sambrano
What: Office Ribbon Cutting
When: Thursday, June 13 at 4:00 p.m.
Where: Claudia's Office, 14831 Whittier Blvd. Ste 101, Whittier, CA 90605
Info: Join Claudia Sambrano & her office as they officially have a ribbon cutting to commemorate the opening of her office. Enjoy a mimosa bar, snacks, and music all while networking with other Whittier locals & business owners. This ribbon cutting is free and open to the public.
Leadership & Communication
Who: Future Leaders of Whittier
What: 2nd Official Meeting
When: Thursday, June 13 at 6:00 p.m.
Where: Whittier Business Center, 12501 Philadelphia St, Whittier, CA 90601
Info:www.whittierleaders.com