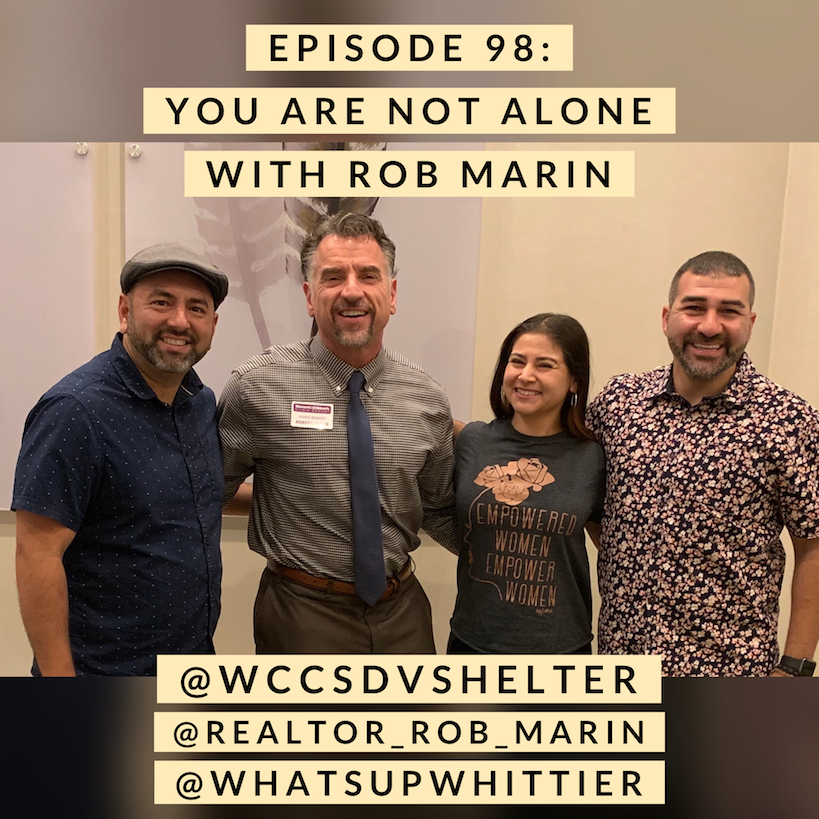 EPISODE 98: YOU ARE NOT ALONE with Rob Marin
Listen in as Jessie the Architect & Remo the Realtor interview Rob Marin, Realtor & the Women & Children's Crisis Shelter board member, about his involvement with the local community, their upcoming Wine & Cheese Soiree fundraiser, and how you can help those affected by domestic violence through various resources. 
https://www.nativekulturecoffee.com/about
Guests:
Women & Children's Crisis Shelter
WINE & CHEESE SOIREE FACEBOOK EVENT
Rob Marin
Social Media
What's Up Whittier
Email: communitycorkboard@whatsupwhittier.com
Remo the Realtor
Jessie the Architect
Producer Christine
Community Corkboard Announcements
Uptown Whittier Farmer's Market
Who: The Whittier Uptown Association
What: Weekly Farmer's Market
When: Fridays, 8am-1pm
Where: Corner of Philadelphia St & Bright Ave
Become a vendor: farmersmarket@whittieruptown.org  
Whittier Crafter Hours
Who: Whittier Public Library
What: Sewing Crafter Hours
When: Thursday, June 6 at 6:00 p.m.
Where: The Whittier Central Library
Info: Please call the library to confirm you reservation: 562-567-9900
Uptown Whittier Art Stroll
Who: Friends of Uptown Whittier
What: Art Stroll
When: Wednesday, June 12 from 5-9 p.m.
Where: Uptown Whittier! Follow the music...
Leadership & Communication
Who: Future Leaders of Whittier
What: 2nd Official Meeting
When: Thursday, June 13 at 6:00 p.m.
Where: Whittier Business Center, 12501 Philadelphia St, Whittier, CA 90601
Info: www.whittierleaders.com
2019 Summer Concerts in the Park
Who: The City of Whittier Parks & Recreation Department
What:  2019 Summer Concerts in the Park
When: Mondays at 7 p.m.
Where: Central Park, 6532 Friends Avenue
Info:
June 24- Disney Tribute Band
July 8- Amanda Castro Band, Jazz
July 15- The Smith Band, Country
July 22- Upstream, Reggae
July 29- Las Colibri, Mariachi
August 5- The Band Fresh, Top 40s
When: Thursdays at 7 p.m.
Where: Parnell Park, 15390 Lambert Rd.
Info:
June 27- Stevie Nicks Illusion, Fleetwood Mac Cover
July 11- Selena Tribute Band
July 18- Neon Nation, 80's
July 25- Blue Breeze Band, Motown
August 1- Hard Days Night, Beatles
August 8- Electric Vinyl, Classic Rock
Parks Make Life Better! Fore more information call 562-567-9450
Bring your lawn chair & blanket! Pets, barbecues, alcoholic beverages, and smoking are prohibited
WHITTIER PRIDE FEST
Saturday, September 28 from 11am-6pm
Central Park
Want become involved in the Whittier Pride planning committee?
Email: prideinfo@whittieryouthbuild.org
Want to be a vendor for the FIRST Whittier Pride fest?
Email: pridevendors@whittieryouthbuild.org
Purple Mirrors by Troy Chavez
A rough and tumble journey through the emotional underpinnings of loss, heartbreak, love and the new perspectives gained when navigating through a changing world. A book meant to uplift the reader and guide them through tough times. Enabling the strength to succeed even in the heart of adversity. A message, that expresses the fact that we must first go through the darkness, to find the light.